| | |
| --- | --- |
| This was the project d'jour. It was my wife's first car 14 years ago. It has been parked for 10 years in a garage just waiting to be restored. This is what it looked like before we started tearing it down back in May 2001. We took it down to a shell, and transporting it to the body shop for some TLC in October 2001. Got her back in March 2002 after 490 hours in the body shop. Use the links above to follow her journey...a long journey to what she has now become. | |
**Please accept my apologies for slacking on updating this site. I promise I will get back to it by the end of the decade!
Check out, in no particular order, pictures of the competition stereo install!
2004 UPDATE!
Winter 2003 had Chris bored, so he tore the motor down to the block and heads, and started adding polished aluminum and chrome anywhere possible. New additions included a polished aluminum Holley air filter assembly, a solid chrome Holley carb, polished aluminum Edelbrock Performer intake, chromed valley pan cover, chromed front engine cover, chromed balancer, polished billet aluminum Rodney Red underdrive pulleys, a polished Rodney Red radiator/electric fan setup, a billet battery tray, an Optima Yellow Top Battery (painted Carousel Red), Lokar kickdown and accelerator cables and brackets, a chrome distributor cap over the stock distributor with a new Crane electronic ignition conversion, Taylor Spiro Pro cut to length spark plug wires, chrome Crane ignition coil, polished aluminum spark plug wire separators, a polished aluminum radiator overflow can, braided aluminum battery cables, all new stainless steel flex hose and braided hose with chrome or endura ends, and CNC laser cut mirrored Lexan panels for the bottom side of the hood. In addition to changes under the hood, Chris added an IBM Pentium 4 laptop with a wireless network card and wireless keyboard/mouse to the trunk lid. This give the ability to watch movies, play music, watch slideshows, or surf the internet from the rear of the car. New movies can be transferred wirelessly to the car from it's home network when in the garage, or from Chris' other portable laptop. This was the end result, seen at the 2004 Trans Am Nationals. After winning in 2002, the car could not compete in 2003, so this was it's first time back in competition. It took 1st Place in Class L, 1967-1981 Heavy Custom, getting 198 out of 200 possible points.
2002 UPDATE!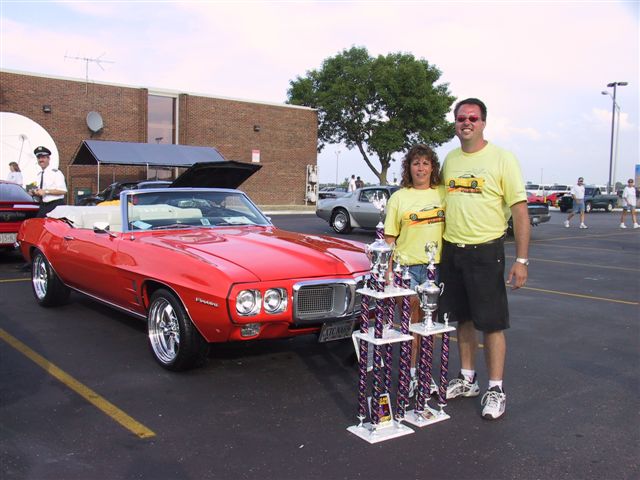 The 69's first show was the 18th Annual Trans Am Nationals in Dayton, OH in August 2002. About 7 hours into our trip to the Nationals towing the 69 with our Bravada, we toasted the Bravada's engine. We next backed the 69 off the trailer, deserted the Bravada, and drove the car the last two hours to Ohio, and also drove it 9 hours home to VA. The 69 took First Place in Class L - 1967-1981 Heavy Custom and Best of Show, making the blown engine much more palatable. This was us after near heart failure from hearing the awards ceremony. The car scored 197 out of a possible 200 on the judging sheets.